The Musical in Literary Translation: Libretto, Production and the Market
Online Guest Lecture with Sabine Ruflair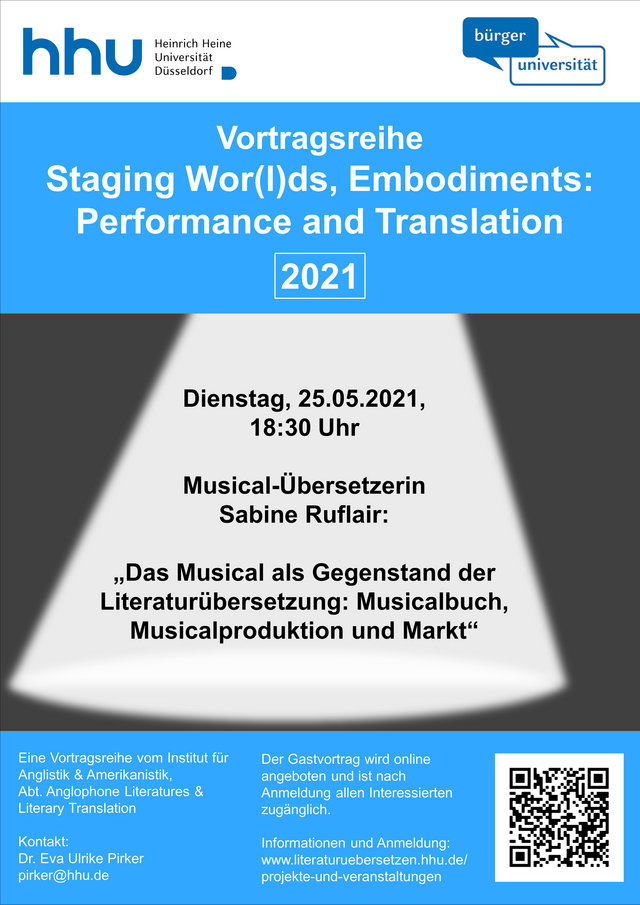 In the context of the lecture series "Staging Wor(l)ds, Embodiments: Performance and Translation" the musical translator Sabine Ruflair will be our guest speaker again. The lecture caters for students of Literary Translation and the general public. In her digital guest lecture "Das Musical als Gegenstand der Literaturübersetzung: Musicalbuch, Musicalproduktion und Markt" (25 May, 18:30) Ruflair provides insight into the complex development processes involved in the creation of musical libretto translations, and into their place in the German and international musical market.
The lecture will be given via a digital platform. Registered participants will receive an invitation link via E-mail. The lecture series is funded by the HHU's format "Bürgeruniversität in der Lehre" and open to the public after registration (see below). The guest lecture will be delivered in German.
Guest lecture: Tuesday, 25 May 2021, 18:30 – 20:00
Organised by: Dr. Eva Ulrike Pirker
External participants are cordially invited to attend the lecture session. Please register by getting in touch with:

Kathrin Hettrich
Research Assistant, B. A.

-
Our guest speaker:
Sabine Ruflair studied translation, acquired a diploma in Performing Arts from Folkwang University (Essen) and an MA-Degree in Cultural Management. In addition to working with German theaters, e.g. as a directing and production assistant for cultural events ((RUHR.2010, Nibelungen-Festspiele Worms), she has been translating musicals from English into German for fifteen years. Among her works are Jane Eyre, The Who´s TOMMY, The King and I, High Fidelity as well as Doktor Schiwago (with Jürgen Hartmann). Since 2015, she has been working at the department for international development of the company Stage Entertainment and has been supervising the translation process of selected musicals, e.g. TINA- Das Tina Turner Musical, Cirque du Soleil PARAMOUR or Pretty Woman.